Building Greater Resilience in the Workplace with Active RVA, in 2021 and Beyond
The 2020-2021 Active RVA Certified Workplace Celebration presented by Cigna recognized the organizations that continue to support physical and mental health in the workplace
By: Kristen Eichert, Sports Backers Corporate Sales Manager
---
When Sports Backers held our Movement Makers Active Living Summit in February 2020, little did we know this would be the last "normal" in-person event for a long time. Here we are, in March 2021, and wow, what a year it has been since then. One word I heard over and over in 2020 was "pivot." Many organizations had to think quickly about how to keep employees safe and still keep business going. While physical fitness may not have been a priority for many, there was an opportunity for employers to think outside of the box and be flexible when it came to supporting employees and encouraging them to remain physically active during the pandemic.
Although we were not able to have our Movement Makers Active Living Summit in 2021, we still wanted to recognize the organizations that continued to support physical fitness in the workplace, even if they were remote. So, in true COVID-19 fashion, on March 30, 2021, we held the first ever virtual Active RVA Workplace Certification Celebration presented by Cigna.
2020-21 Active RVA Certified Workplaces
| | | | |
| --- | --- | --- | --- |
| Buddy | Community Health Solutions | Keiter CPA | The Frontier Project |
| Chesterfield County Government & Schools | Dominion Energy | Lewis Ginter Botanical Garden | University of Richmond |
| Cigna | Federal Reserve Bank of Richmond | One Digital Health and Benefits | Virginia Commonwealth University |
| City of Richmond | Hanover County Government & School Employees | Paymerang | W.M. Jordan |
| ColonialWebb | Highwoods Properties | Scott Insurance | Weinstein JCC |
| The Community Foundation | James River Management Co., Inc. | Soar365 | Williams Mullen |
"The Active RVA Awards recognize those companies in the RVA that are promoting active lifestyles and this fits with Cigna's mission of improving the health, wellbeing and peace of mind of the customers we serve," said Lee Hannah, Vice President of Sales and Customer Relations at Cigna, a long-time partner of the Active RVA Award program. "Cigna is honored to be part of this event and we look forward to being part of more Active RVA events in the future."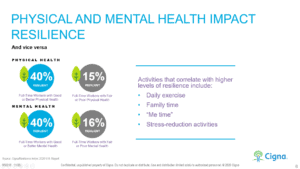 If the word for 2020 was pivot, the word for 2021 should be resilience. By definition, resilience is the ability to withstand adversity and bounce back from difficult life events. Not only are organizations as a whole showing they are resilient, but they are focusing on strengthening the resiliency of their associates. According to Cigna, more than two-thirds of full-time workers (63%) do not have high resilience. Some factors that impact resilience are employment status, current events (such as COVID-19, economic uncertainty, and systemic racism, to name a few), and physical and mental health.
Workers' physical and mental health both influence and are influenced by their level of resilience. Workers who are in good health (both physical and mental) are more likely to have high resilience, and resilience is connected to factors like time spent on enriching activities:
Full-time workers who exercise daily are more resilient than those workers physically exercising less than once a week, or never (46% resilient vs. 28% resilient)
Full-time workers who spend time with extended family every day are more likely to have high resilience than those workers spending time with extended family less than once a week, or never (54% resilient vs. 28% resilient)
Full-time workers getting the right amount of "me time" are also more likely to be resilient than those getting less than the desired amount (37% vs. 28%)
53% of workers practicing daily stress-reduction activities are resilient, compared to 31% of those practicing less than once a week or never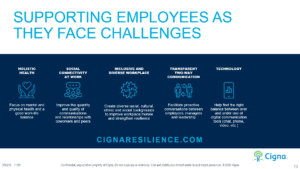 Employers play an important role in building resilience within their associates. A positive workplace culture benefits workers' resilience. Building a culture within your organization is key. Employees also want to feel like they can be their true selves at work. 40% of full-time workers who do not feel the need to hide their true selves at work are considered to have high resilience, compared with 32% of those who do. Another factor is company contribution. Employees that feel like their company is giving back to the greater good are significantly more likely to be resilient than those who disagree (41% vs. 18%).
2021 should be focused on employee resilience, physical health, and mental health, perhaps more than any other year in recent memory. Congratulations to all of the organizations that were Active RVA Certified in 2020-2021 and we hope to celebrate with you in person again next year.