Virginia Credit Union joins as title sponsor of Virginia Credit Union Moonlight Ride
RICHMOND, VA – Sports Backers today announced a new partnership with Virginia Credit Union, naming the Richmond-based financial cooperative the multi-year title sponsor of the Virginia Credit Union Moonlight Ride. The casual nighttime bike event will take place this year on Saturday, August 25, at 8:00 p.m., and registration will open on Tuesday, May 22, 2018. This marks the 10th anniversary of the event, with the Virginia Credit Union Moonlight Ride taking place on a scenic course that goes through the Boulevard, Lakeside, Bryan Park, and Scott's Addition before finishing at Sports Backers Stadium with a street-festival style celebration for participants.
"After participating in the Moonlight Ride for the past three years, we are excited to take a spin with Sports Backers by providing added support to this incredible, family-friendly event,"  said Todd Feldman, Virginia Credit Union's Chief Marketing Officer. "This event supports our mission of reaching more of the community and sharing our message of strengthening financial confidence through affordable financial services, low fees, and educational workshops and resources. Partnering with Sports Backers for the Virginia Credit Union Moonlight Ride allows us to bring our goals of both financial and physical health together for people in our community."
The Virginia Credit Union Moonlight Ride serves as a celebration of cycling in the Richmond region, demonstrating the fun and excitement of biking with friends and family and the possibilities for fitness, recreation, and transportation. The official event charity for the Virginia Credit Union Moonlight Ride is Bike Walk RVA, an advocacy program committed to making the Richmond area more bike and pedestrian friendly. Bike Walk RVA works to encourage the construction of more paved multi-use trails, sidewalks, and bike lanes in the Richmond region, as well as to improve and expand the off-road trail systems in the region.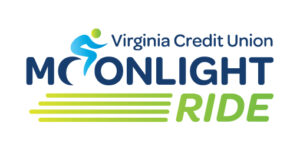 "The Virginia Credit Union Moonlight Ride is a great way to support the continued growth of cycling in Richmond and encourage active living," said Sports Backers' Meghan Keogh, event director for the Virginia Credit Union Moonlight Ride. "We share Virginia Credit Union's commitment to helping people reach their goals and look forward to working together on a successful event."
Registration Opens May 22
Virginia Credit Union Moonlight Ride participants are also encouraged to dress in creative costumes or decorate their bikes in tacky lights for a chance to win several great prizes. Awards will be given to the best costumes and decorations in Individual, Duo/Group, and Children's categories, and participants can enter the contest on-site at Sports Backers Stadium on August 25, prior to the start of the ride.
Registration for the Virginia Credit Union Moonlight Ride opens on May 22. For more event details, please visit www.sportsbackers.org.
###
About Virginia Credit Union
A financial cooperative serving more than 265,000 members, Virginia Credit Union (www.vacu.org) offers a variety of affordable banking services, loans, mortgages, and free financial education resources, with a focus on helping people be more confident with their finances. Virginia Credit Union is an equal housing opportunity lender and is federally insured by NCUA.
About Sports Backers
With a key message of Let's Go, RVA, the mission of Sports Backers is to inspire people from all corners of our community to live actively. A non-profit organization, Sports Backers is dedicated to producing nationally recognized quality sporting events and programs that motivate residents and visitors alike to be more active, supporting youth running and fitness programs, and advocating for safe and connected networks of bike and pedestrian infrastructure. Learn more at www.sportsbackers.org.