Ukrop's Monument Avenue 10k to return to traditional in-person format in Richmond on April 23, 2022
Registration now open with limited-time special pricing, registration caps for 10k and 10k Mini 
---
Richmond, VA –The 2022 Ukrop's Monument Avenue 10k presented by Kroger will take place in its traditional one-day, in-person format in Richmond on April 23, 2022, Sports Backers, the event organizers, announced today. Registration is now open at www.sportsbackers.org, and registrations will be capped at 20,000 participants. 10k participants can take advantage of special limited-time low pricing available from November 29-December 6. The 10k Mini Kids Run, a one-mile run for kids age 4-12, will also take place on April 23, and registration is open for that event as well. A virtual option will also be available for both the 10k and 10k Mini.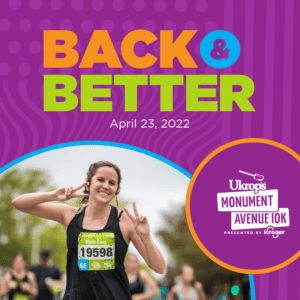 "The Ukrop's Monument Avenue 10k is a celebration of wellness and active living that has made it a favorite RVA tradition for over 20 years, and we are very excited to return to our traditional course on April 23," said Meghan Keogh, race director for the Ukrop's Monument Avenue 10k presented by Kroger. "We are grateful to all the participants, sponsors, and community partners that have continued to support us in 2020 and 2021 and we can't wait to see everyone again in April. We are really looking forward to providing another outstanding in-person experience."
2022 will mark the 23rd running of the Ukrop's Monument Avenue 10k. The 6.2-mile road race returns to its traditional format on Broad Street, Monument Avenue, and Franklin Street for the first time since 2019. The 2020 and 2021 events took place in a hybrid formats on multiple courses over several days to continue the tradition of one of Richmond's favorite community events. Since its creation in 2000, the Ukrop's Monument Avenue 10k has become one of the largest 10k road races in America, with over 525,000 participants taking part in that time.
"We are very excited about Sports Backers' plans to return to the traditional in-person event for 2022. The enthusiasm for the in-person experience is evident from the many participants who look forward to the energy, interaction, and camaraderie that the 10k provides," said Bobby Ukrop, CEO of Ukrop's Homestyle Foods. "We can't wait to see everyone on April 23rd for the 23rd running of the Ukrop's Monument Avenue 10k presented by Kroger!"
"The 2022 Ukrop's Monument Avenue 10k promises to be the best yet," said Anne Jenkins with Kroger Mid-Atlantic. "We look forward to having the Richmond community out in full force to cheer on participants as race day enthusiasm and festivities return to Monument Avenue."
YMCA 10k Training Team Kicks Off on February 12
Registration is also open for the YMCA 10k Training Team, and the team is set to hold its first training session on Saturday, February 12. The 10-week program emphasizes the group approach to training as it prepares participants to successfully cover 6.2 miles on April 23. Whether you are looking to jumpstart your fitness journey or you are ready to add more intense workouts into your training schedule, the motivational coaches and supportive teammates on the YMCA 10k Training Team will have you ready for race day.
 The YMCA 10k Training Team will take place at 17 host sites around the Richmond region, including YMCA branches and select community locations. In addition to entry in the Ukrop's Monument Avenue 10k and weekend group runs, participants will receive 10 free trips to the YMCA, a YMCA 10k Training Team shirt, a detailed program with daily running activities, cross-training exercises, and advice on gear and nutrition. More details and registration for the YMCA 10k Training Team can be found at https://www.sportsbackers.org/training-team/ymca-10k-training-team/.
Both the YMCA 10k Training Team and Ukrop's Monument Avenue 10k will offer income-based registration rates for anyone who qualifies and would otherwise not be able to participate. More details can be found at https://www.sportsbackers.org/events/monument-ave-10k/10k-pricing-registration/.
VCU Massey Cancer Center, Kids Run RVA to Serve as Official Event Charity Partners
The VCU Massey Cancer Center and Kids Run RVA will once again serve as the official event charity partners of the Ukrop's Monument Avenue 10k presented by Kroger. 2022 marks the 15th year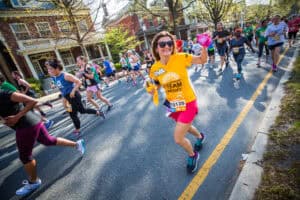 of the partnership between Massey and the 10k, allowing participants to take action in the fight against cancer and help raise crucial funds for Massey Cancer Center's life-saving mission. 10k participants can make their miles matter on April 23 by taking the following steps:
Register at masseychallenge.com
Customize your fundraising page with photos and personal message and share with your network via email and social media
Invite your friends, family, and coworkers to join you
With $100 raised or donated, you receive the 2022 commemorative Team Massey technical shirt to wear on race day!
Kids Run RVA is an initiative of Sports Backers that motivates thousands of young people across our region to run and be active on a regular basis. Sports Backers is committed to improving the health of children in the Richmond region by encouraging routine physical activity, which is critical to their long-term growth and well-being.
As an official charity of the Ukrop's Monument Avenue 10k, donations to Kids Run RVA help provide free training opportunities for youth of all ages, abilities and backgrounds as well as funding to support school-based run clubs and events. For schools with fewer resources, Kids Run RVA grants can additionally cover transportation and entry fees to Sports Backers events, including the 10k Mini on April 23. These events serve as celebrations of the students' discipline, hard work, and achievements.
For more information and registration on the 2022 Ukrop's Monument Avenue 10k presented by Kroger, please visit www.sportsbackers.org.
###
About Sports Backers
With a key message of Let's Go, RVA, the mission of Sports Backers is to inspire people from all corners of our community to live actively. A non-profit organization, Sports Backers is dedicated to producing nationally recognized quality sporting events and programs that motivate residents and visitors alike to be more active, supporting youth running and fitness programs, and advocating for safe and connected networks of bike and pedestrian infrastructure. Learn more at sportsbackers.org.