Sports Backers, Hardywood Park Craft Brewery Announce Partnership for Multiple Events in 2021
Partnership includes Anthem Corporate Run and VCU Health Richmond Marathon

---
Richmond, VA – Sports Backers today announced a new multi-event partnership with Hardywood Park Craft Brewery to serve as the official beer provider for several upcoming Sports Backers events. The partnership kicks off with the Anthem Corporate Run on September 23 and also includes the VCU Health Richmond Marathon on November 13.
Specific beer selections for both events will be determined in the coming weeks. Hardywood's popular Gingerbread Stout will be available at the CoStar Group Post-Race Party on Brown's Island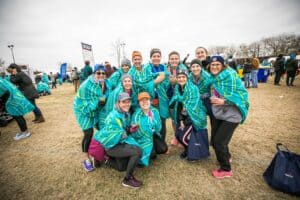 during the VCU Health Richmond Marathon, and Richmond Lager and Great Return IPA will be among the choices for participants at the Hirschler Post-Race Office Party during the Anthem Corporate Run. Registration for both events is currently available at www.sportsbackers.org.
Hardywood, Sports Backers Have Shared Vision for Vibrant, Active Region
With a mission to 'Brew With Purpose,' Hardywood was founded in 2011. It is headquartered in Richmond, and brewery locations include a Richmond Brew House and Taproom and a West Creek Taproom. Hardywood shares Sports Backers' vision for building a vibrant region through active living. Hardywood teams have taken part in numerous Sports Backers team events, including the following:
Great American 5000
Great American Ride
Anthem Corporate Run
"We're excited to work with a wonderful community partner like Sports Backers, a staple in the Richmond community whose events and community building we've long admired," said Eric McKay, Co-Founder and President of Hardywood. "At Hardywood, we take our hometown pride seriously, just like we take our mission to brew with purpose and source locally and sustainably, and partnering on such quintessentially Richmond events is really exciting for us."
"We're thrilled to partner with the team at Hardywood and offer their delicious, locally-brewed beer at the Anthem Corporate Run and VCU Health Richmond Marathon this fall," said Will Dixon, Chief Administrative Officer of Sports Backers. "With these events returning to their traditional in-person formats and Hardywood's shared commitment to active living in Richmond and beyond, there is tremendous opportunity for collaboration that will enhance the event experience for participants and the entire community."
Anthem Corporate Run Offers Opportunities for In-Person Engagement and Team Building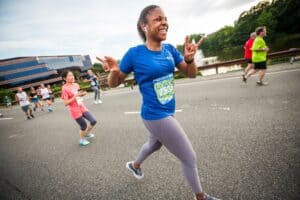 Now in its 12th year, the Anthem Corporate Run has grown to become one of the largest corporate run/walk events in the state. The 5k presents opportunities for team building and employee engagement, particularly as companies seek out new opportunities for in-person engagement. The Anthem Corporate Run takes place at Innsbrook Office Park on Thursday September 23. A Captain Rally for team captains takes place July 28 at 5 p.m. at the Innsbrook location of Capital Ale House.
VCU Health Richmond Marathon Brings Premier Racing Experience Back to Downtown Richmond
2021 will mark the 44th running of the VCU Health Richmond Marathon. It is consistently recognized as a premier race experience, earning accolades such as 'Top 15 Fall Race in the U.S.,' 'Top 20 Marathon in the U.S.,' and a 'Best Bet for a Boston Marathon Qualifier.' The VCU Health Richmond Marathon, along with the CarMax Richmond Half Marathon and Allianz Partners 8k, also helped Richmond earn the distinction of being one of the 'Top Racing Cities in the U.S.'
More information on the Anthem Corporate Run and VCU Health Richmond Marathon, as well as registration details, can be found at www.sportsbackers.org.
###
About Sports Backers
With a key message of Let's Go, RVA, the mission of Sports Backers is to inspire people from all corners of our community to live actively. A non-profit organization, Sports Backers produces nationally recognized quality sporting events and motivates residents and visitors alike to be more active, supports youth running and fitness programs, and advocates for safe and connected networks of bike and pedestrian infrastructure. Learn more at sportsbackers.org.