Sports Backers Announce Run Bike Relay to Take Place In Person July 17-18
Richmond, VA – Sports Backers invites participants to run and bike into summer with the Run Bike Relay overnight endurance event taking place from Friday, July 17 to Saturday, July 18. The 51-mile relay will take athletes on a running and biking journey through some of the area's best-known and most challenging terrain, including Forest Hill Park, the Buttermilk Trail, the Manchester Floodwall, and Virginia Capital Trail. Participants will be able to experience the thrill of riding and running through Richmond at night in a safe, socially-distanced environment, and registration is now open at www.sportsbackers.org.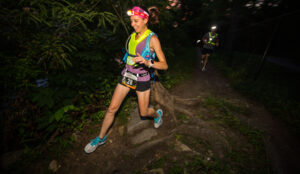 In the Run Bike Relay, solo participants or teams of two will start at City Stadium on the evening of July 17 and embark on a 51-mile route on bike and on foot through trails in Richmond and Henrico before finishing back at City Stadium on July 18. While one team member is on the course, the other team member will drive ahead to the next transition zone to wait for their teammate to complete the segment. There will be a total of six segments, which will include three running segments ranging in length from four to six miles, largely on dirt trails, and three biking segments ranging from 13 to 20 miles, completely on paved trails. Each team member must complete at least three sections of the course, but in any order that they choose.
With each individual's safety and transmission mitigation in mind, Sports Backers has been working on new event modifications and procedures, which include the reduction in team sizes (from four-person teams to two person or solo teams) and shortening the course from 125 miles to 51 miles, that will allow safe operations of the 2020 Run Bike Relay. These policies and procedures are based on current recommendations for COVID-19 safety protocols and are subject to change at any time. Guidelines are in place for staff, volunteers, and participants, for all event premises, including the start/finish area, course areas, and transition zones.
In addition to the guidelines above, event organizers ask that all high-risk persons not participate in the 2020 Run Bike Relay. This includes but is not limited to:
Persons over the age of 65
Those who are immunocompromised or undergoing treatment for an ongoing disease such as cancer, HIV, liver or heart disease
Those with moderate to severe asthma
"As we navigate our ever-changing world, our mission to inspire people to live an active lifestyle remains. Now, more than ever, the Sports Backers team wants to keep you moving, but only in a way that keeps our participants, volunteers, staff, and communities safe and healthy," said Megan Schultz, Chief Operating Officer for Sports Backers. "Our team has been working hard to revise our event plans to meet the current social distancing requirements so that we can get back to celebrating active living through events like the Run Bike Relay in the safest way possible."
Virginia Capital Trail Foundation is Official Event Charity Partner
The Virginia Capital Trail Foundation is the official event charity of the Run Bike Relay. Their mission is to enhance, promote, and advocate for the continued development of the Virginia Capital Trail, a 52-mile dedicated multi-use trail connecting Richmond and Williamsburg along the historic and scenic Route 5 corridor. Registration for solo and two-person teams is now available at www.sportsbackers.org, with a July 15 entry deadline.
###