Matthew Whelan, Lexi Long Earn Top Times-Dispatch/Sports Backers Scholar-Athlete Awards
Richmond, VA – The Richmond Region's finest high school scholar-athletes were rewarded for their hard work last night at the Times-Dispatch/Sports Backers Scholar-Athlete Awards Dinner at The Jefferson Hotel. 2018 celebrates the 27th anniversary of the program that honors area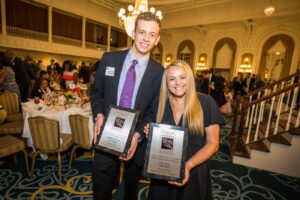 scholar-athletes for their athletic, academic, and extracurricular achievements. Since the program's inception in 1992, over $1 million in scholarships has been awarded to 536 outstanding student-athletes from the Richmond region.
Top honors and $7,500 scholarships went to Matthew Whelan of J.R. Tucker High School and Lexi Long of Deep Run High School. The $5,000 runners' up scholarships went to Cory O'Shea of Mills Godwin High School and Madison Jiranek of St. Catherine's. The remaining 16 scholar-athletes won scholarships of $2,500 each. They were:
                           Girls                                                                             Boys
| | | | | |
| --- | --- | --- | --- | --- |
| Carter Bristow | Douglas Freeman | | Ian Baker | Monacan |
| Imani Edmonds | Hopewell | | Greg Cuffey | Hopewell |
| Madison Goff | Goochland | | Maddison Furman | St. Christopher's |
| Ashley Henneberger | Glen Allen | | Collin Gerardi | Powhatan |
| Lauren McCarey | Maggie Walker | | John King | Goochland |
| Cara Menges | St. Catherine's | | Grant Northcutt | Cosby |
| Addie Nash | Trinity Episcopal | | Joe Paul | Maggie Walker |
| Maiya Pencile | Matoaca | | Scott Phillips | Collegiate |
New Scholarships Awarded in 2018
New scholarships for 2018 also included the Cheryl Lockett Oliver Memorial Scholarship, which was awarded to Samiya Jackson of Thomas Jefferson High School, and the Raymond Delaware Patterson Memorial Scholarship, which was awarded to Christopher Jones, Jr., of Petersburg High School. Both Jackson and Jones were Scholar-Athlete of the Year representatives for their schools. Jackson will attend Xavier University, and Jones will attend the University of Virginia, and they were awarded scholarships of $2,500 each.
HCA Virginia Sports Medicine also presented its male and female Comeback Athletes of the Year at the dinner. The awards recognize high school athletes who have overcome major injuries or illnesses during their careers and returned to playing their sports. The male winner was Jeb Boswell, a football player at Lee-Davis, and the female winner was Morgan Whitaker, a lacrosse and field hockey player at Deep Run. They each received a $1,000 scholarship and a $500 donation to their respective high school.
Williams Mullen will also be awarding a $1,000 scholarship to the male and female Teams of the Year as well as a $500 scholarship to the runner-up teams. These winners will be announced at the conclusion of the spring sports season.
Andre Ingram, a Richmond native whose 10-year journey to the National Basketball Association and standout performance with the Los Angeles Lakers in early April captured the nation's attention, served as the featured guest during the 2018 Times-Dispatch/Sports Backers Scholar-Athlete Awards Dinner and shared his motivational and inspirational story with the audience. Ingram is a Highland Springs High School graduate and was the Times-Dispatch/Sports Backers male Scholar-Athlete of the Year in 2003 before going on to a highly successful four-year career as a student-athlete at American University and embarking on his professional career.
###