Event Update: Virginia Credit Union Moonlight Ride Rescheduled for Friday, August 26
Let us first say that we really appreciate your patience as we've worked to coordinate and reschedule the Virginia Credit Union Moonlight Ride. As a nonprofit with a mission to inspire active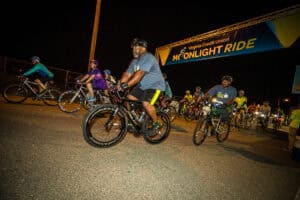 living, we were disappointed that the event designed to get people moving had to be postponed at the last minute due to inclement weather. With months of planning behind it, the untimely change means that our event budget has been exhausted. However, we've worked really hard to come up with an alternative solution, one that still allows participants to ride and celebrate under the stars and wisely considers our budget, mission, staff and volunteer time, sponsors, and vendors.
Please join us on Friday, August 26 for the rescheduled Virginia Credit Union Moonlight Ride! The event will take place in Bryan Park from 6 p.m.-10 p.m. and will feature an open course in the park—this means you can start whenever you prefer and ride the loop in the park as many times as you'd like during that time frame. The Party Zone will be open throughout the duration of the event, allowing you to partake in the festivities before, after, and during your ride. The Party Zone will feature a DIY medal station, yard games, vendors, snacks, Väsen beer, ice cream, and more.
With the rescheduled event, we have a few options for you to consider. Please complete our RSVP form to inform us of your decision no later than August 22. 
Join the fun at Bryan Park!
Give the Virginia Credit Union Ride another shot and join us on Friday, August 26 from 6 p.m.-10 p.m. Bryan Park under the stars is magical!
Switch to Virtual & Receive Swag
If you're unable to take part in Bryan Park on August 26, we would be happy to switch you to the virtual event and will mail you your event shirt, lights, and sponsor items (if you didn't already receive them).
Donate Your Registration Fee
If you are unable to participate and would prefer to donate your registration fee, we will gladly accept! We are a 501(c)(3) nonprofit organization and donations are vital to our mission of inspiring active living. Your support allows us to advocate for safe and accessible bike and pedestrian infrastructure, like the Fall Line trail, and host fun and iconic events like the Virginia Credit Union Moonlight Ride.
Although certainly different, we are proud of the plan moving forward and hope you'll join us under the stars for a magical night in Bryan Park. Our events have been thrown quite a few curveballs over the past few years, but if we've learned anything, it's that a little rain (or even a lot of rain) can't keep our community from coming together over a shared sense of fun and achievement. Thank you for helping to further our nonprofit mission of creating a more active community!
Thank you!