Corvell Poag, Molly Grube earn top Times-Dispatch/Sports Backers Scholar-Athlete Awards
Richmond, VA – The Richmond Region's finest high school scholar-athletes were rewarded for their hard work last night at the Times-Dispatch/Sports Backers Scholar-Athlete Awards Dinner at The Jefferson Hotel. Top honors and $7,500 scholarships went to Corvell Poag of Armstrong High School and Molly Grube of Manchester High School. Poag is the first overall winner from a City of Richmond School since 1993, when Sean Archer from Thomas Jefferson High School earned the top award. The $5,000 runners' up scholarships went to David Winters of Maggie Walker and Lily Snow of Deep Run.
2019 celebrates the 28th anniversary of the program that honors area scholar-athletes for their athletic, academic, and extracurricular achievements. Since the program's inception in 1992, over $1,100,000 in scholarships has been awarded to 558 outstanding student-athletes from the Richmond region.
The remaining 16 scholar-athletes won scholarships of $2,500 each. They were:
 Girls                                                                                             Boys
| | | | | |
| --- | --- | --- | --- | --- |
| Hannah Ballowe | St. Catherine's | | Sam Brooks | Goochland |
| Lexi Baumhover | Cosby | | Ali Ibrahim | Glen Allen |
| Megan Kratzer | Hanover | | Ricky Jones | Hopewell |
| Emme Levenson | Douglas Freeman | | Jacob Moss | Powhatan |
| Lauren Murphy | Mills Godwin | | Elby Omohundro | St. Christopher's |
| Abby Rieck | James River | | Logan Ransom | Steward |
| Sally Snead | Trinity Episcopal | | Nick Viers | Douglas Freeman |
| Sierra Tutwiler | Highland Springs | | Christian White | Highland Springs |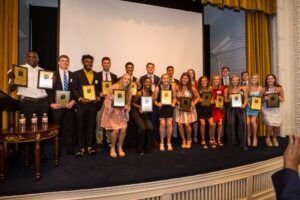 Additional scholarships for 2019 included the Cheryl Lockett Oliver Memorial Scholarship, which was awarded to Jadah Ellison-Johnson of J.R. Tucker High School, and the Raymond Delaware Patterson Memorial Scholarship, which also went to Armstrong's Poag. They were awarded scholarships of $2,500 each. Poag will attend the University of Virginia, while Ellison-Johnson will attend George Mason University.
HCA Virginia Sports Medicine also presented its male and female Comeback Athletes of the Year at the dinner. The awards recognize high school athletes who have overcome major injuries or illnesses during their careers and returned to playing their sports. The male winner was Jacob Stamm, a football player and lacrosse player at Cosby, and the female winner was Elexis Edwards, a gymnast at Monacan. They each received a $1,000 scholarship and a $500 donation to their respective high school.
Williams Mullen Community Impact Award Presented for First Time
The newly-created Williams Mullen Community Impact Award was also announced, and the winner was the John Marshall High School Boys Basketball Team for their work with families and organizations in the Northside and Brookland Park areas of Richmond. Their community outreach efforts included leading annual book bag drives, community turkey giveaways to aid families during Thanksgiving, and a clothing drive in partnership with Commonwealth Catholic Charities. The honor includes a $2,500 award, which the team will use to expand their community efforts in the future. The Williams Mullen Community Impact Award aims to recognize a sports team improving their community through service to others. The goal of the award is to recognize a Richmond region high school-based sports team for improving their community through volunteerism, fundraising, or other altruistic activities.
Kristin Carpenter Steadman served as the featured guest during the awards dinner. She was the 2009 Times-Dispatch/Sports Backers Scholar-Athlete of the Year while at Hanover High School. Steadman was the All-Metro volleyball player of the year in the fall of 2008 before going to Penn State, where she was part of teams that won two NCAA championships and three Big Ten championships. She played professionally in Sweden and Greece before becoming an assistant coach at the University of Virginia and then at the University of Oklahoma. She currently is an assistant coach at the University of Maryland. Steadman was recently named Hanover High's greatest athlete in a Times-Dispatch series featuring the greatest athlete from 50 of the area's high schools.
###