2020 Virginia Credit Union Moonlight Ride to Take Place as Virtual Event
RICHMOND, VA – The 2020 Virginia Credit Union Moonlight Ride, originally scheduled for August 15, will take place as a virtual event, with registration now open at www.sportsbackers.org. Once registered, participants can complete their virtual ride anytime between August 15-August 31. Distance options for the virtual ride include three-mile, eight-mile, and 28-mile categories, and the $20 registration fee includes an event t-shirt, bicycle light set, downloadable bib number, virtual goodie bag, and a registration packet shipped directly to participants, among other items.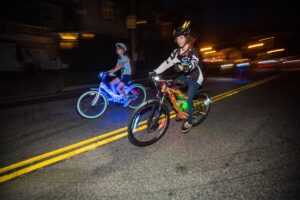 The Virginia Credit Union Moonlight Ride has grown into one of Richmond's favorite cycling events, and 2020 marks the 12th year of the ride. The virtual event encourages riders and families to explore their neighborhoods and communities in a celebration of biking and active living while adhering to current health and safety guidelines. Sports Backers will provide mapping tools and links to assist participants in creating their own unique routes to allow a personalized experience to the virtual event.
The continued support of Virginia Credit Union helps make the 2020 virtual event possible, and this will be the third year the Richmond-based financial cooperative has served as title sponsor of the event. Partnering with Sports Backers for the event helps Virginia Credit Union bring their goals of both financial and physical health together for people in the Richmond community.
"We look forward to the Moonlight Ride every year, and though this year's event experience will be different, we know it will be a great opportunity for participants to get out and get active, and we're happy to support that," said Glenn Birch, Virginia Credit Union's Director of Public and Media Relations. "Our members believe in strengthening our community and we know Sports Backers shares that belief and events like the Moonlight Ride help make it a reality."
The virtual Virginia Credit Union Moonlight Ride will again feature costume and bike light decoration contests for participants, with prizes available to winners in both categories. Participants can post their photos to the event Facebook page (https://www.facebook.com/moonlightride/) and winners will be notified after August 31. Contest details can be found on the Sports Backers website (https://www.sportsbackers.org/events/moonlight-ride/costume-tacky-light-contest/).
"Biking in the Richmond region continues to grow in importance for fitness, recreation, and transportation, and in the past few months it's become increasingly popular as an exercise outlet thanks to the physical and mental benefits it provides," said Meghan Keogh, Event Director of the Virginia Credit Union Moonlight Ride. "We hope this year's virtual event is another way for people of all ages and experience levels to enjoy getting on their bike and celebrating our active community, even if we can't all be together at the same time."
Bike Walk RVA to Serve as Official Event Charity
The official event charity for the Virginia Credit Union Moonlight Ride is Bike Walk RVA, an advocacy program committed to making the Richmond area more bike and pedestrian friendly. Bike Walk RVA advocates for comfortable and connected places to bike and walk for people of all ages and abilities. Protected bike lanes, paved shared-use paths, safe intersections, and calm neighborhood streets have been proven to get people biking and walking on a regular basis and are an important part of healthy and vibrant communities. Participants who make a $20 donation to Bike Walk RVA will receive a $5 discount on their virtual Virginia Credit Union Moonlight Ride registration.
For registration and more event details, please visit www.sportsbackers.org.
###